Red Vinyl Tarps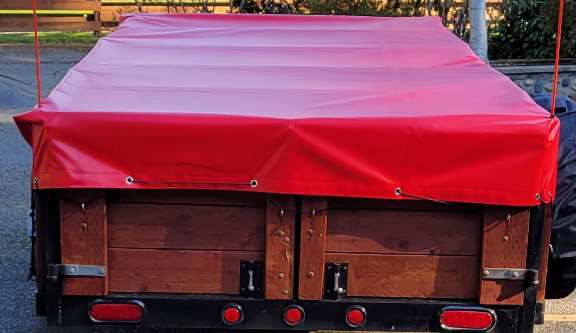 Red tarps are a bold choice if you want to show off your sporty trailer or RV. As with all colors of vinyl, red tarps offer 100% waterproof protection that will last for many years. Due to the pigments used to formulate the red coloring, red tarps tend to fade faster than those in other colors. Nevertheless, most tarps should retain their coloring for several years and fading does not compromise the integrity of the fabric.
If you are looking for a mesh tarp for your trailer or dump truck, these also come in red.
You may also be interested in our Black Vinyl Tarps.
Red Tarp Testimonials
Location:
Bremerton, Washington
Rating:
Excellent

Comments:
The tarp is fantastic, the service has been great, the communications great, the price was great and the rapid shipping was a pleasant surprise. I could not be happier. As you can see from the attached photos the fit is perfect. the tarp held up very well on a 150 mile drive in the rain at 60 to 65 mph without fluttering and no leaks. Thank you so much for the excellent service and GREAT product.

Regards,

Deane Hilt