Black Vinyl Tarps
Black tarps offer maximum sun blockage, full coverage and protection suitable for all weather use. Our heavy duty black vinyl tarps offer great long-lasting protection. They are reinforced with nylon and polyester webbing (sea belt material) providing you with a superior quality product.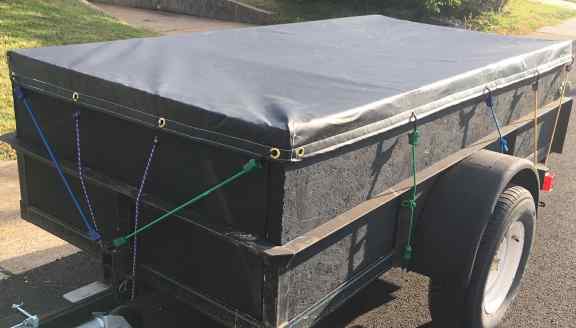 Black tarps tend to absorb heat so avoid ordering black in situations where you have full sun and you don't want the item(s) being protected by the tarp to get hot. Black tarps don't tend to show dirt and scuff marks as much as lighter tarps do making it the most popular color choice by Heavy Duty Tarp customers.
Here we show a photo of a fitted tarp, this is just one of the options that we offer. Follow this link to learn about other configurations of utility trailer tarps.
You may also be interested in our Brown Tarps.