Roof Covers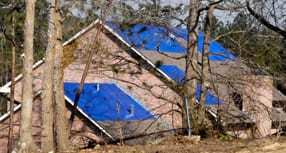 If you are a roofer, you know that cheap polypropylene don't cut it when it comes to keeping the water out. Homeowners depend on you to keep the inside of their home dry as you conduct repairs. Don't take a chance on an expensive lawsuit due to a failed tarping job. You want a tarp that you can trust to keep the roof dry for as long as it takes.
In addition to leaking, cheap lightweight tarps act like large sales in high winds and often will tear or blow off entirely. Our heavy duty tarps do not react to most wind conditions so you don't need to worry about these hazards.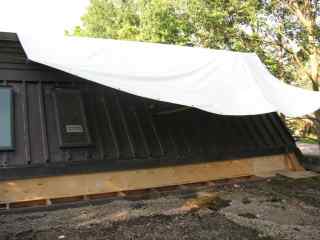 If you're a homeowner, you may have to wait days or weeks for a roofer to conduct repairs. Be sure to properly protect your home so that delays caused by bad weather don't result in more damage. Even if you are putting a claim through insurance, you are responsible for ensuring that a damaged roof does not lead to flooding and water damage. Insurance companies may deny your claim if you have not taken steps to mitigate secondary damage caused when a damaged roof is not protected from the elements.
If you have a rush order, let us know and we will try our best to get your custom tarp to you right away. We custom cut them to any size by your specifications. Add as many of our heavy gauge rust resistant brass grommets along the edges as you need to get the job done. You can also choose the color that best suits your environment.
If you are looking for short term roof leak protection you should also consider our general purpose tarps.