Custom Made Industrial Tarps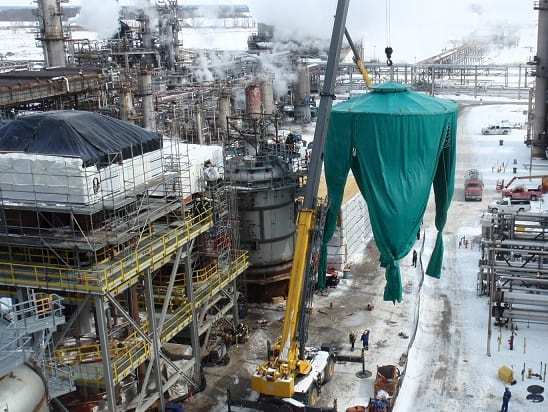 Our tarp material is suitable for a wide range of industrial applications including:
Factory Curtains
Water Channelling and Flood Control
Dust Control
Temporary protection from sun, rain, wind or other weather conditions
Protection from Hazardous Chemicals
Machinery Covers
There is really no limit to the size and shape of tarps that we are capable of manufacturing but generally tarps beyond about 1000 pounds start to become unwieldy in terms of production and shipping.
In the photo above, one of our tarps is being installed on top of a reactor tank that was about to undergo exterior surface maintenance. This tarp was required to be FR rated due to the fact that there was welding being conducted on the outside of the reactor.
Generally, onsite cranes are required to hoist large tarps into place.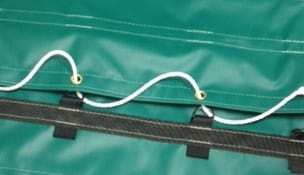 This project was undertaken in the winter so one of the important functions of the tarp was to create a heatable enclosure to make it possible to perform the maintenance in frigid temperatures. For this reason the side tarp sections were overlapped and D-rings were used to tie the grommets to the adjacent panels as shown here.
Our solid vinyl material has cold crack protection to up to -40C (-40F) and can also withstand high temperatures up to about 150C (300F).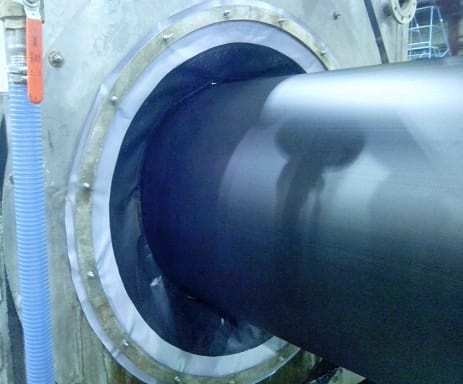 Our expertise was also put to a test by a large pipe manufacturer. They needed something to seal both ends of a cooling booth when manufacturing extruded high density polyethylene pipe (HDPE pipe).
This conical shaped "gasket" tarp resulted in a significant decrease in water utilisation and better run off containment.
Another important industrial application that we serve is in the area of Foreign Materials Exclusion Tarps.