Heavy Duty Tarps Supplies Tarp for Whistler Blackcomb's "Great Slush Cup"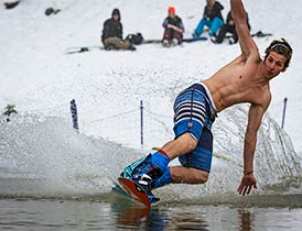 The Whistler Blackcomb ski resort in BC holds an annual "Great Slush Cup" event which involves skiers and snow boarders attempting to traverse a pool of water (ideally without getting wet). The ski resort needed a large waterproof tarp that could be filled with water to form a man-made lake.
We recommended our 50 x 100 feet Ice Rink Liner as a cost-effective solution. When dealing with tarps of this size, our tradition material is often too heavy and too expensive to manufacture. Our ice rink liner is 6 oz/cubic yard so it is heavy enough for this application while still being manageable with an overall weight of about 250 pounds.
If you are in the Whistler area on May 19, 2014 look into attending their Great Outdoors Festival.