Shade and Rain Cover for your Pergola
Pergolas are an attractive feature to add to your deck or garden. Unfortunately, the design of most pergolas do not lend themselves to offering shade or protection from the weather. Adding an attractive tarp to your pergola can greatly add to its enjoyment and extend its use.
Deciding on the Cover Material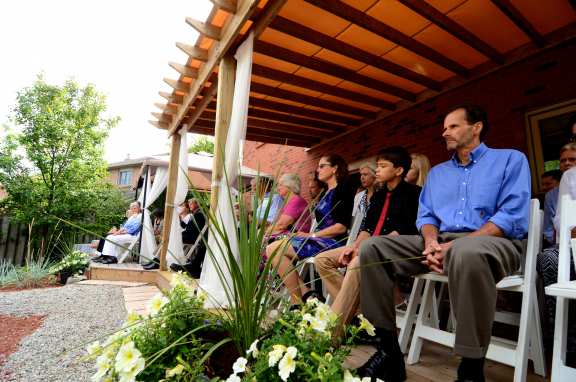 There are two main materials that are suitable for covering your pergola.
Solid vinyl
90% Block Mesh
The material you choose depends primarily on whether you want a waterproof cover.
Solid Vinyl Pergola Covers
If you need your pergola to be waterproof, you will most likely want to go with an 18 oz solid vinyl material. This comes in a wide range of colors to match your garden decor. In addition to being waterproof, solid vinyl covers will block out a considerable amount of light and heat. While this is generally desirable, keep in mind that if your pergola is directly adjacent to your house, any doors or windows that are covered by the pergola will not allow as much light into your home. This does have the benefit that the inside rooms next to the pergola will tend to be cooler and more energy efficient during warm periods.
When using a solid vinyl cover you should ideally have an angled pergola so that it sheds water. If the cover is completely flat you may get some water pooling in the middle during heavy rain.
Mesh Pergola Covers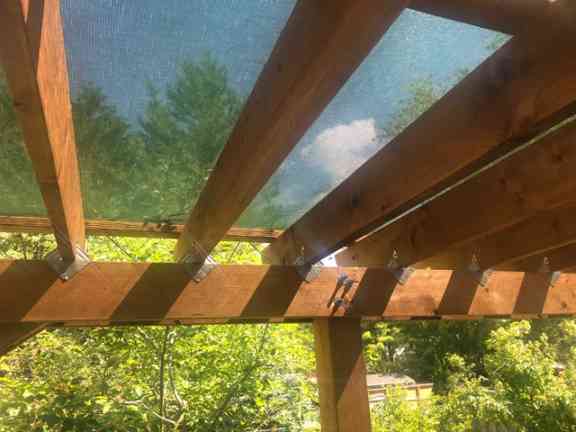 Mesh covers have the advantage that they allow some airflow so they won't trap warm air under the pergola as might happen when using a solid cover. Also, if you want to allow some sunshine to get through the cover mesh is a good choice. Of course rain can filter through our mesh covers so they are not suitable if you want to keep furnishings or other items in your pergola dry.
We offer two types of 90% block mesh, our premium mesh comes in dark green and black while our Super Heavy Duty mesh comes in black only. Either material would be suitable to cover your pergola however keep in mind that the Super Heavy Duty material is a stiffer material so it is less inclined to drape over the sides of the pergola. If you go with the Super Heavy duty material it is best if you size the cover so that is sits on top of the pergola without extending over the sides.
Pergola Maintenance
In cooler climates, where you don't use your pergola during the winter months, it is a good idea to take down the cover to store it indoors while not in use. Use this opportunity to wash and dirt and debris off of the material using a mild cleaning solution consisting of soap and warm water.
Attaching the Cover to the Pergola
You will need to decide the best way to fasten the cover the structure. If you are planning to screw the grommets into the structure you will need to supply us with a diagram that shows exactly where each grommet needs to be placed. Even if your pergola trusses are evenly spaced at say every 12 inches, if you order your tarp with grommets every foot there is a chance they might not line up perfectly. By supplying a diagram with exact grommet positions this alerts us to the fact that the grommet spacing is critical to your application.
If possible, it is better to fasten the cover to the continuous boards on the sides so that precise grommet spacing is not necessary, as is the case if you are trying to line up the grommets onto the center of adjacent boards.
Extending Down the Sides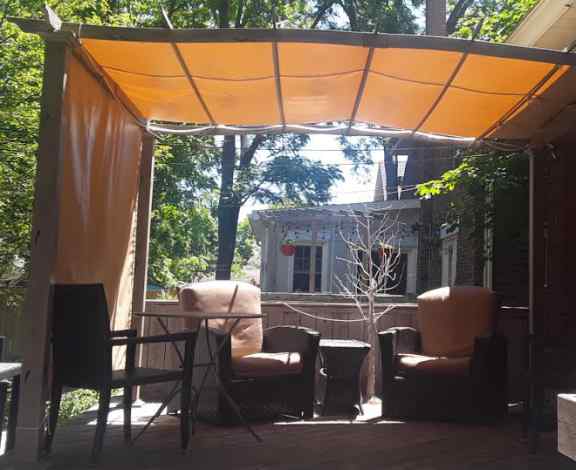 Pergolas are often used to provide shade. Nevertheless, there may be times when you are sitting out under the pergola when the sun is rising or setting and it is too low in the sky to be shaded by the pergola. Consider extending the pergola to come down on one of the sides if this would help provide shade during these periods. In addition to shade, this is also a way to use the pergola to add privacy in cases where your back yard is visible to neighbours. This may also provide shelter from the wind if that is a problem if your back yard.
Pergola Cover Testimonials
Name:
Salvatore Degregorio
Location:
Sault Ste. Marie, Ontario
Rating:
Excellent

Comments:
Perfect fit and excellent workmanship.
---
Location:
Sherwood Park, Alberta
Rating:
Excellent

Comments: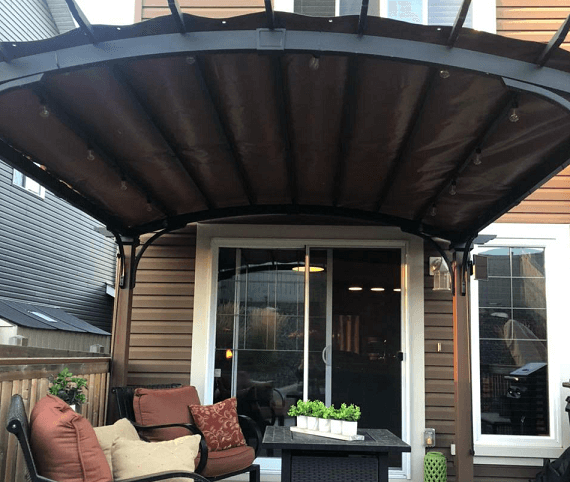 My brother and sister have a tarp over their deck and suggested this product. We installed it on a pergola and it works great. Heavy Duty Tarps assisted me in the weight colour and selection process. They were quick to respond. Very great people to deal with and excellent pricing. It was a perfect fit for my needs.
Adam sent along this photo of his pergola installation.