Outdoor Kitchen Tarps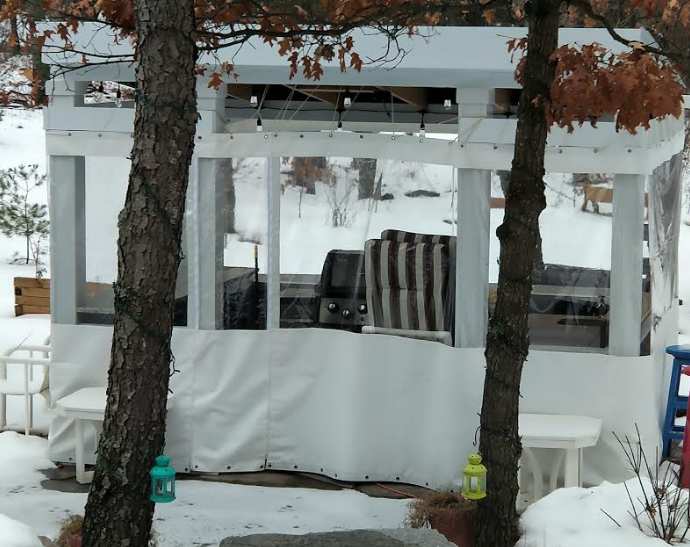 Our tarps are often used to enclose a pagoda or gazebo to build an outdoor cooking area that can be used year round. When enclosing an area that will contain elements that use combustion such as a barbeque, gas stove, fire pit, etc. it is very important to ensure that the area is well ventilated. Notice in this photo that the upper area is not sealed to the outside. This will allow carbon monoxide that is produced by the flame to escape while also allowing oxygen to enter the area. This is necessary to prevent carbon monoxide poisoning or asphyxiation when cooking within the enclosed area. We also recommend setting up a carbon monoxide detector to be on the safe side.
In this custom tarp we have added clear vinyl windows all around the outside to let in lots of natural light. A double-sided zipper is used to form a door opening on one of the sides.
Be sure not to situate the barbeque or other cooking apparatus too close to the tarp material since the heat of the barbeque could cause the vinyl material to melt. You should also make sure that open flames to no come near the vinyl. Our flame retardant material can be used to reduce the fire risk but keep in mind that this material is also not meant to come into contact with heat and flames.
Outdoor Kitchen Tarp Testimonials
Location:
Grand Bend, Ontario
Rating:
Excellent

Comments:
I wanted to get a photo to you of the tarp you created for my outdoor Kitchen....it is exactly what I was looking for, and I have had several great comments from everyone that gets invited. With the BBQ on, the kitchen heats up really well in the winter time.
I just love cooking outdoors and making this a year round kitchen has really made my year!!
Your support and great product has made it very worthwhile dealing with a great Canadian Company.
I will recommend your company to all my friends.
All the best for 2021