Golf Mesh and HD Golf Mesh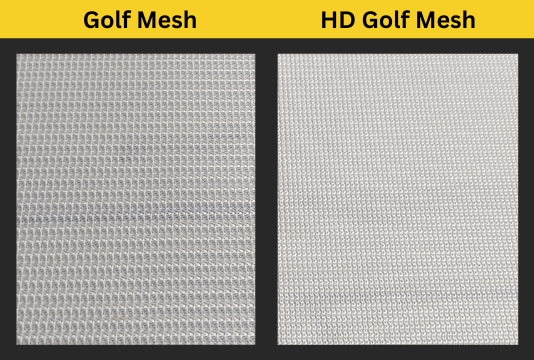 We offer two grades of Golf Mesh.
Standard Golf Mesh is 12oz per square yard.
HD Golf Mesh is 12.6 oz per square yard.
Both of these materials are made of a powerful synthetic resin polyester mesh with a tight weave making them ideal use as golf simulator projection screens. Here are the main characteristics of our Golf Mesh:
Minimal golf ball bounce back.
Quiet impact.
High durability.
Instantaneous recovery.
Great picture quality, especially when in front of a black background.
The HD Golf Mesh offers the best picture quality and durability of our golf screen offerings. You can see from the image comparison that it does a better job of blocking out black patches that are behind the mesh samples.
Our golf mesh material comes in a maximum width of 120 inches.