Welcome Saturn Industries

Heavy Duty Tarps would like to welcome our new customer Saturn Industries of Winnipeg Manitoba. Saturn Industries is a fabrication shop specialising in the design and fabrication of custom trailers of any size and capacity, from 3500 lbs, to upwards of 60 tons. They also design and manufacture certified lifting devices and rigging.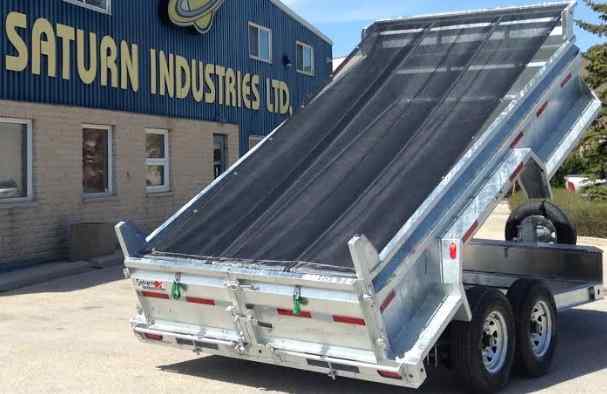 Paul Stevenson of Saturn Industries was kind enough to send us these photos of our heavy duty mesh roll tarp on one of their custom trailers. This is a "dumper" model which uses a hydraulic scissor hoist to facilitate automatic unloading of the payload. The hoist is powered by a 12 volt electric / hydraulic on-board pump.
Dumper roll tarps are identical to our dump truck roll tarps. These generally come with a pocket on one end and grommets on the other three sides.